July 2015: Staplethorne Ltd (in Devon) is selling a range of used R&D X-ray and vacuum equipment. This includes: benchtop Jordan Valley EDXRF, 320KV radiation chamber (set up for R&D with 320KV X-ray tube and Ge detectors), Ge & Si(Li) detectors, vacuum pumps, and NIM crate and modules. Please contact xrays@staplethorne.co.uk or Tel: + 44 (0)1404 42455 for further information if of interest.
Used R&D X-ray and Vacuum Equipment List.

- Opens in new window - Please allow a few moments
Summer 2012: Staplethorne Ltd agrees deal to sell m-station Football Rebounders in the UK
Staplethorne is delighted to be able to bring the largest, most powerful and most versatile rebounder in the world to the UK.
With 10 different angle settings the m-station PRO allows realistic practice at all levels. m-station is currently used by Premier League players and youngsters alike.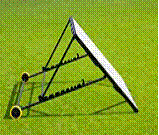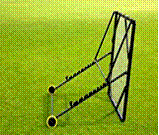 Train like the pros in your own garden - Now available the m-station TALENT - a smaller size rebounder ideal for home use, clubs, schools etc.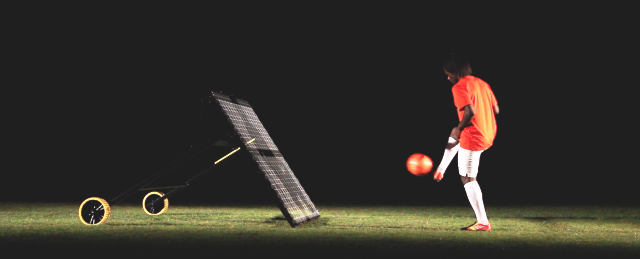 January 2011: Vacancies for part-time electronics and software engineers, Honiton, Devon
Small product development company requires part-time electronics and software design and test engineers or technicians with some knowledge of instrumentation design.
Staplethorne develops a range of sensor based instrumentation products and subcontracts much of its development work.
The initial requirement for the successful candidates is to provide in-house support and liaison with the subcontractor team and to carry out small projects.
Working hours can be flexible by arrangement and may suit someone semi-retired, studying, or with other commitments. There will not be any guaranteed hours - these are occasional task by task positions that are only likely to be a few weeks a year in the first instance.
Salary is negotiable depending on skills and experience. Further details may be obtained from Keith Barfoot on 01404 42455.

December 2007: Staplethorne successfully completes product development for pilot launch of a sports EEG.

The launch of the new Alpha-Active pocket size EEG for monitoring brainwaves in sports training is imminent. More information on Alpha-Active compact EEG.

November 2007: Part-time Vacancies for Electronics Design & Software Engineers or Technicians

Due to expanding product development work for its clients, Staplethorne Ltd in Honiton, Devon, and its associated companies, have the need for additional part-time electronics design & software engineering or technician support. More info

21st June 2006: Analytical Chemistry Support - available as and when required

Staplethorne Ltd are pleased to announce that they can now provide part-time/temporary personnel support in analytical chemistry, with experience in techniques such as AAS, ICPES, XRF, UV-Vis spectrophotometry or wet-chemical analysis. We cover East Devon including Exeter, Taunton and Honiton. More info

1st June 2006: Going the extra mile for LastMile Communications Ltd

The team at Staplethorne Ltd are pleased to have made a contribution in helping LastMile, one of the most exciting technology opportunities in recent years, to achieve lift-off.

LastMile is an innovative provider of secure, edge-of-network wireless content delivery solutions. The company's unique node-based hardware system helps create wireless networks within fixed geographical locations, resulting in a low-cost, high performance wireless content delivery for service providers, municipalities and users across many industries, including healthcare, universities, corporate enterprises, public security and transportation. More info

30th May 2006: Staplethorne announces "Entente Cordiale" with Imartec SARL

Staplethorne Ltd, a technical product development company based in Honiton, Devon, UK, has announced that they are teaming up with Imartec SARL, an electronics design consultancy based in Biscarrosse near Bordeaux, in order to offer an extended range of product development services to their clients. More info